There are many factors to consider when creating a website. One of the most important factors is the rate at which your website operates. People are in a hurry, and they want their internet experience to be fast to match. Therefore, it is becoming more and more important to make sure your website speed is as fast as or faster than the industry standard.
The Human Component
As we mentioned, people today are busy. They are involved in every activity under the sun and have to be constantly jumping from location to location. Most of their internet shopping or browsing is conducted on their mobile device, whether it be a smartphone or tablet. They do not have the time to wait for your site to load. Even more importantly, they do not have the time to wait for their transaction to complete as a result of slow loading times. If your customer has to wait more than a few seconds (for some people), this gives them enough time to cancel the transaction and move onto the competitor. Your website needs to keep up with this demand or risk losing the business at hand.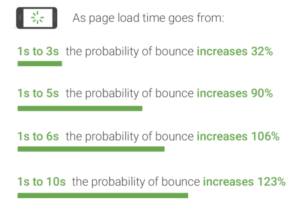 The Tech Side
There are several key factors to website SEO and how people respond to your website. As we mentioned above, the load time for your website plays a huge role in people's web experience. The longer a website takes to load or complete a transaction, the higher the bounce rate becomes. As a result, viewers are leaving your site after visiting only one page and moving onto your competitor. However, this is not where this problem ends.
Part of Google's indexing algorithm includes the speed and bandwidth of your website. The more bandwidth your website uses, the longer it takes to load. Since most people utilize a mobile device to access the internet, Google needs to ensure that your website is mobile friendly. This means fast uploads and lower bandwidths. If your website is not fast enough, Google will push it down in its results, lowering your SEO quality. The issue becomes one of not even being able to attract clientele, let alone keeping them.
Many times, these issues can be fixed by just optimizing the information you have. Reducing the size of your photos and limiting the information provided on your website may help make your site more mobile friendly. Once your site is more mobile friendly, it will likely be better ranked on Google. To learn more about making sure your website is up to speed, contact the experts at Skol Marketing at (612) 787-7565. Their website experts can help you make sure you are meeting all of the guidelines set forth by Google to keep your customers happy, your bounce rate low, and your website highly ranked.  Make sure you are up to speed so that your customers do not go to your competitor, leaving you in the internet graveyard.